Allies for Efficiency – SAIF Salem Campus Presentation and Building Tour
AUGUST 7, 2018 | 9:00 AM - 11:00 AM
---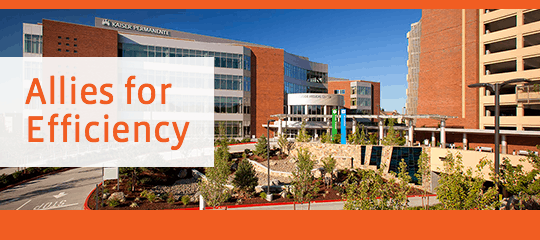 On August 7, the Allies for Efficiency event will include a tour of the newly constructed SAIF headquarters in Salem, along with presentations from the design team. The team enrolled in Energy Trust of Oregon's Path to Net Zero and engaged the New Buildings program early in the design process to help reach its energy goals.
The campus headquarters building was stripped to its bones and transformed with new additions to create a modern workplace that puts all employees in one location, encourages cross-department teamwork, and accommodates anticipated future growth. The new headquarters will reflect this company's vision to be a responsible, forward-thinking and collaborative organization.
The building features a high-efficiency envelope with windows and insulation that exceed code, as well as LED lighting, regenerative elevators, mechanical systems with chilled beams, condensing boilers and a multi-compressor chiller,  and direct outside-air ventilation. The park-like Salem campus along Pringle Creek includes a large parking structure and adjacent Parkway Building, which is also undergoing energy and seismic upgrades.
The design team worked with SAIF and Energy Trust from the beginning to achieve energy-efficient, comfortable and functional building systems. The result is a building that is projected to use 40 percent less energy than the Oregon Energy Code. SAIF expects a significant reduction in maintenance and utility costs—some systems target a 15-year payback through reduced utilities. The project received over $200,000 in incentives from Energy Trust for technical assistance, energy-efficient equipment, functional testing commissioning and solar-ready design.
---