High Performance Design Training
SEPTEMBER 6, 2018 | 11:30 AM - 1:00 PM
---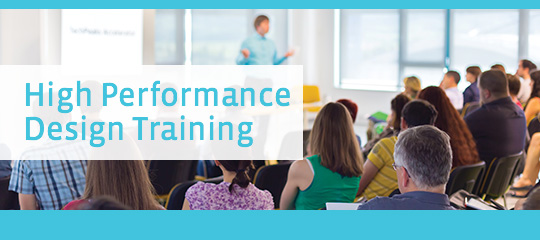 Energy Trust of Oregon presents the High Performance Design Training:
Approaches to Efficient Envelope Design
Uncontrolled airflow through building enclosures can affect structure durability, thermal comfort, indoor air quality, and energy consumption—poorly optimized air barriers can ultimately account for 15-25 percent of a structure's heating and cooling energy consumption. Modern, high-performance buildings require more sophisticated enclosures and thoughtfully designed control layers to prevent energy waste. However, building codes often only provide limited guidance on how to design, construct and commission these systems.
Alex Boetzel of Green Hammer will discuss approaches to designing air control layers—specifically ensuring continuity—as well as the successful installation process through proper detailing and onsite reviews. Alex will also provide an overview of air barrier commission through infiltration tests.
About the presenter:
Alex Boetzel, CPHC, Director Operations + Sustainability, Green Hammer
With over 25 years of experience in construction and building science, Alex is a Certified Passive House Consultant and has consulted on dozens of LEED, Passivhaus, high-performance and green residential projects in the US, as well as in Europe. He plans and executes Green Hammer's innovation concepts, technical training, including building envelope and HVAC, and ensures quality control of envelope, energy, and water systems in design, construction, and commissioning.
---
---