September 2018 Energy Engineering Forum
SEPTEMBER 19, 2018 | 12:00 PM - 1:00 PM
---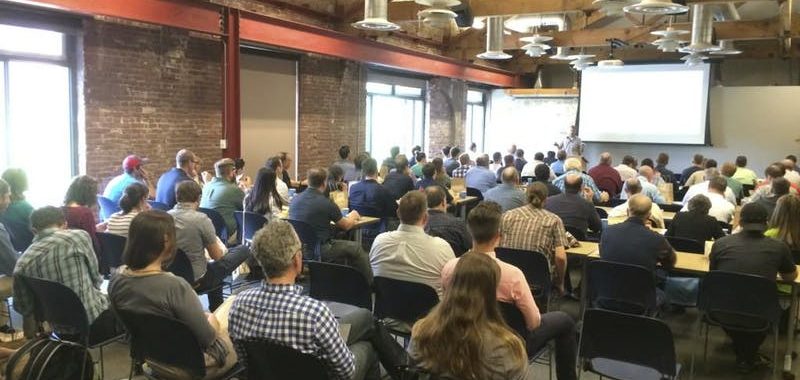 Bridging the Gap: Commercial Real Estate and Energy Efficiency
The AEE Columbia River Chapter and Energy Trust of Oregon are proud to present the next Energy Engineering Forum. This free event consists of a one hour panel discussion by green building experts followed by fifteen minutes of Q&A.They will be discussing the challenges and solutions to working within the complex commercial real estate market.
A complimentary lunch and certificates of attendance will be provided.
Panellists:
Wade Lange, CPM, RPA, FMA
Vice President, Regional Manager, Portland, American Assets Trust
Mr. Lange serves as Vice President and Regional Manager for the Portland area, overseeing operations and development for approximately 1.3 million square feet of office, residential and retail property. Prior to joining American Assets Trust in February of 2013, Mr. Lange served as Vice President of Property Management for Langley Investment Properties and Ashforth Pacific, from 1997 to 2013, with primary responsibility for the Lloyd properties now owned by American Assets Trust. Mr. Lange also worked for the Oregon State Legislature as the Facilities Manager for the State Capitol and as the Maintenance Manager for US Bancorp's corporate headquarters in Portland, Oregon. Mr. Lange is a native of Portland and received his Bachelor of Science degree in Social Science from Portland State University and serves on the boards of BOMA Oregon, Oregon Smart Growth, Go Lloyd, Portland Street Car, Lloyd Enhanced Service District, Lloyd EcoDistrict and the Holliday Park Partnership.
Emily Pearce, CEM, MBA
Vice President, Waypoint Energy
Emily Pearce has 20 years of business experience with over a decade of that in the energy efficiency industry. She has lead strategic initiatives for many utility programs including developing and designing innovative energy efficiency and market transformation programs, introducing new technology to the marketplace, and implementing and improving national energy efficiency programs. Her responsibility has included managing over $100M budgets over the past decade. Ms. Pearce has lead major business development efforts across the U.S. with specific experience in commercial utility markets, the built environment and the commercial real estate market with expansive relationships throughout these sectors. As Vice President at Waypoint, Emily runs the energy services side of business which spans across the U.S. Emily has a B.S. in Fisheries and Wildlife from Michigan State University, and an M.B.A in Finance and Organizational Behavior from Marylhurst University. She is also a Certified Energy Manager. Emily is the Chair of the Green Building Interest Group (GBIG) – a sub-committee of the Cascadia Portland Collaborative of the US Green Building Council (USGBC) and on the Board of the AEE Columbia Chapter.
Melynda Retallack, Ink:built
Melynda is a Principal and owner at Ink:built Architecture, a woman owned architecture and development company. She views each project Ink Built takes on as an opportunity to demonstrate how buildings can have a restorative effect on our environment and even start to alleviate issues of affordability and equity in housing. After graduating from high school here in Portland, Mel earned a Bachelor of Architecture with a minor in Environmental Studies at the University of Oregon and then moved to San Francisco to develop affordable housing and complete school renovations around the Bay Area. She is a licensed architect in Oregon and Washington and a LEED AP BD&C with over 20 years of experience in architecture and real estate development. She currently serves on the Board of Directors for Camp Fire Columbia- a youth services organization and is a past chair and is still active with the Green Building Interest Group (GBIG) – a sub-committee of the Cascadia Portland Collaborative of the US Green Building Council (USGBC) and International Living Futures Institute (ILFI). Mel spends her free time backpacking and paddling in the northwest and tending her urban garden.
---