Energy Trust's 2020-2024 Strategic Plan builds on our 20-year history successfully serving Oregon residents and businesses with clean energy solutions. It also accounts for a variety of changes and uncertainties we foresee emerging. These changes require Energy Trust to innovate and build on how we accomplish our goals and deliver benefits to all customers of Portland General Electric, Pacific Power, NW Natural, Cascade Natural Gas and Avista.
Five focus areas and key strategies will guide our future program and outreach efforts. These focus areas align to our core purpose, which is to help customers and communities reduce costs and realize additional benefits by saving energy and using renewable resources.
Our focus areas include: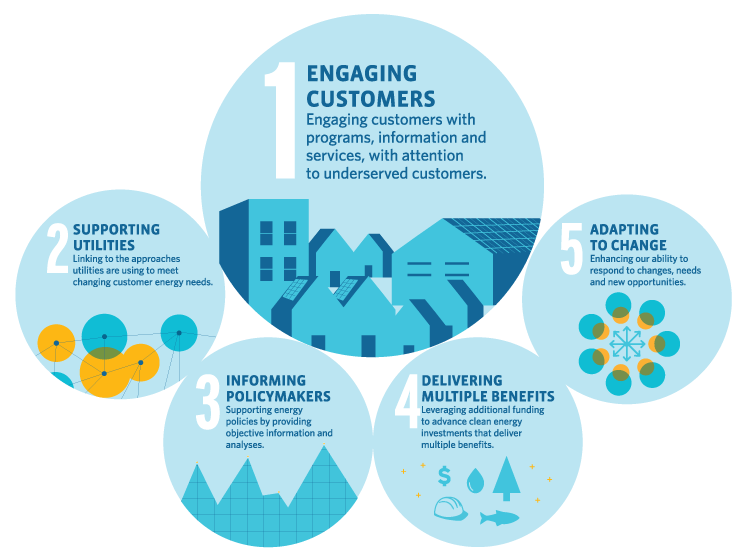 Executive Director Michael Colgrove provides an overview of the draft 2020-2024 Strategic Plan and its five focus areas. Watch the 15-minute webinar.
Read our 2020-2024 Strategic Plan
About our Strategic Planning Process
Energy Trust's Board of Directors kicked off development of the draft 2020-2024 Strategic Plan at its annual Strategic Planning Workshop in May 2018. At this workshop, the board explored long-term opportunities and challenges facing the organization and discussed Energy Trust's unique value and ability to deliver benefits to utility customers.
The board's Strategic Planning Committee worked with staff, the Oregon Public Utility Commission, utilities and other stakeholders to develop the draft plan over the next year. Energy Trust also solicited comments from stakeholders and the public during an open, transparent comment period.
The final 2020-2024 Strategic Plan was presented to the Energy Trust Board of Directors for its approval at a public board meeting on October 28, 2019.
Exploring Opportunities through Learning Papers
At the board Strategic Planning Workshop, board members reviewed staff presentations and findings on 10 learning papers. The papers broadly explore subjects the board expressed interest in learning more about prior to starting the 2020-2024 Strategic Plan process. These topics were identified because of their potential to influence, impact or otherwise affect Energy Trust's ability to serve the utility customers of Oregon and Southwest Washington. The following papers educate and inform the board, and are not policy proposals or recommendations:
Download all learning papers