Kill A Watt Monitor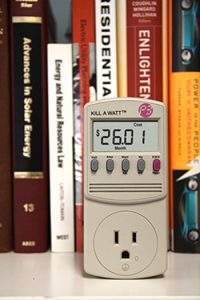 Check Out Energy Savings with a Kill A Watt monitor from your library
Energy Trust and local libraries are making Kill A Watt® monitors available for check-out. Kill A Watt monitors measure the energy usage of household appliances and electronics. By finding out how much energy your electric devices are using, and then making energy-saving adjustments, you can take charge of your electricity use and lower utility costs year-round.
Where can I check-out a Kill A Watt monitor?
Libraries in communities served by Portland General Electric and Pacific Power are able to participate. View a list of participating libraries to see if a library near you has Kill A Watt monitors available for checkout. Also, visit your library's website to see if you can reserve a monitor online.
What information is included with the Kill A Watt monitor?
Each monitor comes with information on how to use the Kill A Watt and how to apply what you learn so that you can start saving energy. We list the types of devices in your home that are likely to use more energy than you realize, and the devices that continue to use energy even when they appear to be turned off, often called "phantom power."
You can use the information you get from the Kill A Watt monitor to track the estimated electricity costs per month by each product in your household. To chart energy use and costs, download this worksheet (PDF | Doc).