The Energy Performance Platform (EPP) is a cloud-based, secure platform that will allow Strategic Energy Management (SEM) participants to easily record energy management actions and view progress over time.
The EPP uses the Energy Sensei® software platform and will replace Excel-based performance tracking tools and opportunity registers. It provides SEM participants with a centralized platform for their portfolio of enrolled sites, including energy models, project tracking and visuals that allow participants to track energy performance. Photo courtesy of Cascade Energy.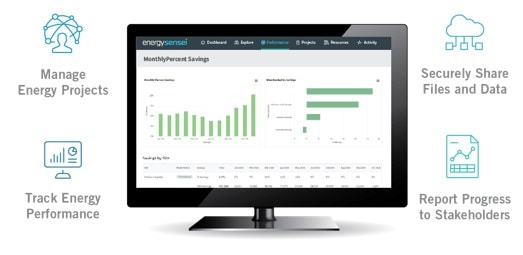 Benefits to SEM participants include:
Track energy use, energy cost, and emissions reductions over time
Integrated and automatically updated billing and weather data
Connect actions to results by tracking projects in the platform's dashboard
Secure, encrypted, cloud-based platform
Multiple users can access at once allowing increased collaboration
Aggregate projects and savings across your portfolio of buildings
SEM participants will save time and have even more visibility into and control over their energy performance with the EPP.
For more information on the platform Energy Trust will be providing to SEM participants, you can visit: Energy Sensei – Energy Management Hub. Details about data security can be found here: Energy Sensei Data Security.
Have questions or want more information about the EPP? If you're a commercial participant, email energymanagement@energytrust.org. If you're an industrial participant, email production@energytrust.org.