Allies for Efficiency webinar and virtual tour of the new net zero Oregon State Treasury Resiliency Building at Mill Creek
JUNE 8, 2022 | 12:00 PM - 1:30 PM
---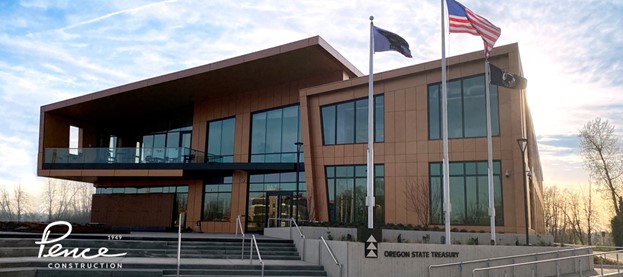 Oregon State Treasury Resiliency Building at Mill Creek: Where net zero and resiliency intersect in innovative building design and construction
Using net zero design combined with seismic structural features, the Oregon State Treasury Resiliency Building at Mill Creek is the first of its kind in Oregon – and unique in the nation. This two-story, 36,000 sq ft facility is designed to last 100 years, utilizes strategies that reduce electricity and water use, and is built to generate power. These high-performance features lower daily operational costs and make the building more resilient during an emergency or natural disaster.
Join us at this Allies for Efficiency event where you will hear first-hand from the building owner and design team about the building's most innovative features including:
Seismic base isolation and other structural features to help make the building usable immediately after a 9.0 earthquake – first USRC platinum building in Oregon
EUI 27 with extensive on-site solar energy production with back-up emergency power
Net Zero energy efficiency measures to reduce overall electric load
High efficiency HVAC system includes VRF with DOAS and radiant floor to improve comfort and indoor air quality
Maximum daylighting strategies including automated clerestory windows provide more natural light and help heat the building
High performance envelope including super insulated roof, walls and windows
Emergency water and septic systems and water conservation features
Through early engagement and an unwavering commitment to energy efficiency and renewable energy, the project successfully completed the Path to Net Zero offering, saving over 200,000 KWH annually and receiving $165,000 in incentives.
About the presenters:
Byron Williams, chief administrative officer, Oregon State Treasury
Steve Freeburg, building owner
Craig Stockbridge, principal, GBD Architects
Chris Lowen, director of building sciences, Glumac
Zach Stevens, sustainability lead, WSP
Philip Johnson, project executive, Pence Construction
When:
Wednesday, June 8
Presentation time: 12:00 – 1:00 p.m.
Big Check ceremony: 1:00 – 1:10 p.m.
Virtual Tour and Q&A: 1:10 – 1:30 p.m.
Tour with Dan McNally, business services manager, Oregon State Treasury.
Where:
Webinar presentation through GoToWebinar.
Webinar log-in information provided at event registration.
1.5 AIA HSW continuing education credits pending.
---
---