ASHRAE Standard 90.1 2016 Appendix G deep dive on May 20 and 21
MAY 20, 2020 | 9:30 AM - 2:30 PM
---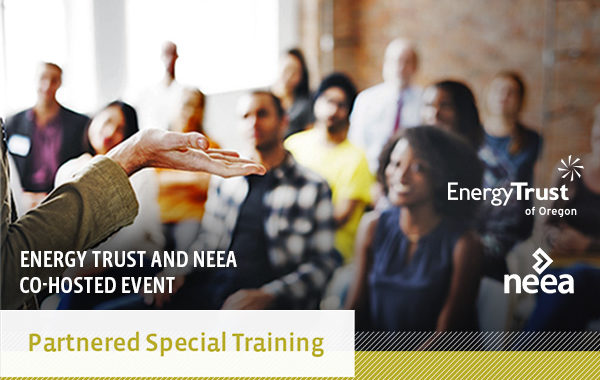 Energy Trust of Oregon and NEEA invite you to in-depth webinar trainings on the new ASHRAE Standard 90.1 2016 Appendix G modeling protocol. While not required, attendance of both days is recommended as examples are built upon for modeling instruction and insight.
During the trainings you may participate in interactive exercises and will be shown application examples of the modeling protocol requirements that may be used for documenting compliance with 2019 Oregon Zero Energy Ready Commercial Code, as well as above-code programs such as LEED NC v4.1 and the EPA ENERGY STAR® program for Multifamily High Rise buildings. Each day will also feature a robust Q&A for attendees to receive answers on questions about the new protocol.
When:
Wednesday, May 20
Time: 9:30 a.m.-2:30 p.m.
Lunch and breaks included in the schedule.
Day one overview: Learn about 90.1 2016 Appendix G general concepts and the simulation requirements related to building envelope geometry, thermal properties and air leakage, and lighting systems and controls.
Thursday, May 21
Time: 9:30 a.m.-2:30 p.m.
Lunch and breaks included in the schedule.
Day two overview: Building on the information covered on day one, attendees will be shown how simulation requirements relate to HVAC systems and controls, service water heating and other building systems. In addition, the relationship between modeled and measured post-occupancy energy use will be discussed.
Where:
Webinar presentation through GoToWebinar.
Webinar log-in information provided at event registration.
Self-reported CEUs available.
About the presenter:
Maria Karpman, LEED AP, BEMP, CEM
Maria has 20 years of experience in building science, energy modeling and software design and has completed numerous energy modeling projects for new and existing buildings. Maria is a member of the ASHRAE Standard 90.1 committee. She has developed and delivered trainings on energy modeling and performance-based code compliance that have been attended by over 1,000 building industry professionals. Maria holds advanced degrees in engineering and computer science, has served as an NYU adjunct faculty member and is the principal of Karpman Consulting.
---
---
This is a recurring event
---