December's Building Energy Simulation Forum
DECEMBER 19, 2018 | 12:00 PM - 1:15 PM
---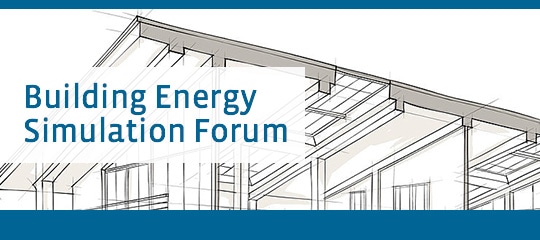 Building Energy Simulation Forum – Portland
Using building energy modeling data to inform the next design: Creating the Compass energy benchmarking tool
The Compass energy benchmarking tool was developed for energy modeling professionals to learn from their energy-efficient designs by creating a database of modeling inputs. Many energy models are created for the purposes of performance testing to pass energy code, and/or to pursue a certification (e.g., LEED certification). These energy models are used to predict performance and assess energy alternatives to better inform important design decisions. However, once the models are checked for compliance, the data inside of them may never be used again, until now.
Presenters Joel Good and Mathew Hyder from RWDI will share their experiences developing Compass; the online, publicly accessible, data-driven design tool for commercial new construction. The tool extracts over 400 variables from an energy model file that can be sorted to evaluate energy efficiency across building and climate types. Joel and Mathew will discuss some of the intricacies and hurdles faced during developing Compass and will also provide a demonstration of the database.
Presenters:
Joel Good, senior consultant, associate, building performance and sustainability, RWDI
A senior consultant with RWDI's Building Performance and Sustainability team, Joel has over 15 years consulting experience on building-energy and sustainability projects. He brings his expertise in energy, daylight, airflow, and comfort modeling in complex buildings and climates to each project and assists project teams in making the most of the natural passive energy potential offered by a site's specific climate.
Matthew Hyder, technical project coordinator, RWDI
Matthew works with RWDI's engineering team to help clients understand, model and enhance their buildings energy performance. A versatile professional with a background in engineering management and sustainable design, he is proficient with multiple software systems related to energy modeling and performance, including eQuest and IES VE. With these tools, Matthew can help inform RWDI's clients about residential and commercial building design choices and identify cost-optimal efficiency packages for whole-house energy savings, from modest efficiency improvements to zero-net-energy scenarios.
---
---