Free Building Energy Simulation Forum February 20
FEBRUARY 20, 2019 | 12:00 PM - 1:15 PM
---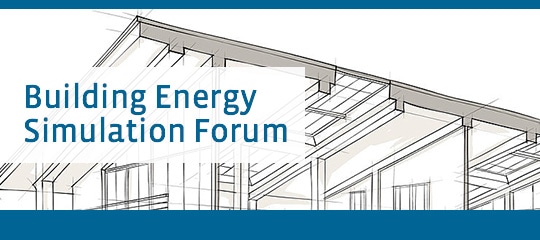 How designers can curb risk with performance-based modeling
Today's design professionals are under added pressure and commitments to provide solutions that address a multitude of factors including environmental stewardship, carbon reduction and occupant health. In order to tackle design problems, design professionals will increasingly need to rely on energy modeling to support proposed design strategies, as well as assessing and lessening micro and macro level risk factors.  Performance-based modeling, when structured appropriately, offers immense client value that extends well beyond the estimation of energy reduction.
Building energy modeling expert Eric McDaniel will discuss and explore the importance of performance-based analytics, and how when used effectively, it can lower construction costs, improve occupant thermal and visual comfort, and assist in reducing the effects of carbon emissions.
Register today to secure your spot for February 20.
Presenter:
Eric McDaniel, AIA, BEMP, LEED AP
Eric McDaniel, a founder and managing principal of Sora Design Group, is a registered architect and certified building energy modeling professional with over 24 years of experience. Over the past 15 years, he focused on elevating building performance through holistic building analysis and design.
Eric has worked on a diverse range of projects from small retail to large-scale commercial and institutional projects in over 11 countries. He actively consulted on seven projects pursuing net-zero energy and over 90 projects earning LEED certification. As an architect, Eric has a keen interest and passion for all facets of the design process, especially when it reduces environmental impacts.
---
---