High Performance Design Training: Daylighting Strategies, LED Technologies, and Controls for Efficient, Healthy, and Sustainable Buildings
APRIL 27, 2018 | 8:00 AM - 2:00 PM
---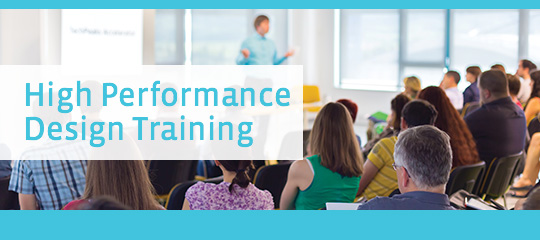 Join Energy Trust New Buildings for a High Performance Design Training in Bend, OR.
According to the U.S. Department of Energy, electric lighting accounts for nearly 40 percent of all the energy consumed in U.S. commercial buildings. In addition, high performance lighting design is critical to occupant comfort, productivity, and health. This six-hour course offers an overview of the latest tools and simulation techniques used to properly size and predict lighting performance.
The course will detail the benefits of good lighting design and a new approach to the lighting design process. It will introduce the latest research of electric lighting technologies and controls designed to meet the lighting needs of commercial buildings.
The course includes:
Hands-on applications of lighting design process.
Demonstrations on lighting controls advancements.
Overview of procedures to conduct on-site lighting audits that will introduce participants to advanced knowledge of building retrofits and integrated design for creating energy-efficient buildings of the 21st century.
Course Learning Objectives:
Upon completion of this course, participants will be able to:
Apply a new lighting design process that positively impacts energy savings and human health.
Evaluate various space forms and orientations for optimal daylighting potential and the proper sizing of daylighting systems.
Compare competing designs to determine the most effective approach to daylighting and electric lighting systems integration and retrofits.
Identify different lighting controls systems and their various requirements and applications.
Assess and evaluate existing lighting systems for their compatibility with new lighting technologies retrofits, as well as conduct a full lighting audit and verification for LEED v.4 credits.
About the presenter:
Ihab Elzeyadi, PHD, FEIA, LEEDAP is a professor of architecture and lighting design. He directs the High Performance Environments laboratory (HiPE) at the Department of Architecture, University of Oregon. Dr. Elzeyadi has been engaged in the design, construction, and research of high-performance buildings for more than 25 years. With special focus on daylighting and electric lighting technologies, Elzeyadi has contributed consulting and design assistance services for more than 3 Million sf. of commercial buildings and over 55 LEED™ and LBC rated buildings. He is the past-president of the Society of Building Science Educators (SBSE), a member of the Illumination Engineering Society (IES), American Society of Heating Refrigeration and Air Conditioning Engineers (ASHRAE), as well as various corporate advisory boards.
---
---