Oregon Energy Code compliance and Luminaire Level Lighting Controls
SEPTEMBER 15, 2020 | 12:00 PM - 1:30 PM
---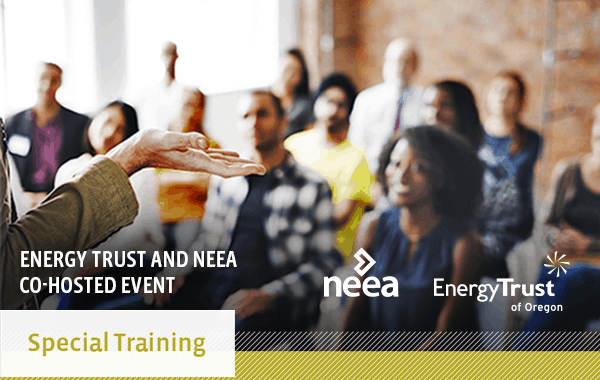 Energy Trust and Northwest Energy Efficiency Alliance (NEEA) are working together to present a free training webinar on new compliant lighting code requirements.
The new code requirements make compliant lighting more efficient than ever before, which comes with both opportunities and unique challenges. Complex controls can be costly and time-consuming, and delivering above-code energy savings may seem impossible. Offering a streamlined path to meet these challenges is Luminaire Level Lighting Controls (LLLC), an emerging technology with integrated sensors in every fixture.
Hear from our expert panelists, who will unpack each area of code compliance, from occupancy and daylight harvesting to strategies for delivering above-code energy savings. Attendees will learn how this simple and reliable technology helps satisfy commercial energy code requirements and the knowledgeable panelists will address specific questions in a follow-up discussion and Q&A session.
Each panelist will bring a unique perspective and has prior experience with LLLC capabilities and implementation. Read more about the panelists' expansive experience below.
About the panelists:
Jesse Smith, senior lighting designer, Glumac Engineering
As a lighting studio team lead and senior lighting designer at Glumac Engineering, Jesse's background started in communication, which lead him to Parson's School of Design where he received an MFA in architectural lighting design. He is Lighting Certified with National Council on Qualifications for the Lighting Professions (NCQLP) and a board member of Illuminating Society of Engineers (IES), as well as an active member in local IES and International Association of Lighting Designers (IALD) chapters helping to promote better lighting through education. Projects he has worked on span the globe in a spectrum of project types from medical facilities to higher educational institutions to hospitality projects. Jesse has extensive experience in exploring new lighting, control and daylighting technology. 
Tony Adams, LC, national lighting manager, Evergreen Consulting Group
With more than 30 years in lighting, Tony acts as national lighting manager for Evergreen Consulting Group and serves on the program implementation team for NEEA's LLLC initiative. His experience includes 12 years as co-founder and vice president of engineering for a U.S. lighting manufacturer, preceded by a tenure as senior lighting designer for an international multi-discipline design and construction firm.
Blake Shelide, facilities engineer, Oregon Department of Energy
Serving as a facilities engineer with the Oregon Department of Energy (ODOE), Blake provides technical expertise for a number of ODOE programs. He is a licensed mechanical engineer in Oregon, and his career has included work as a design engineer and consultant as well as serving as a corporate energy manager for a large industrial manufacturer. With ODOE, Blake is the lead for ODOE's role with commercial energy codes and standards and serves on the construction industry energy board, working together with stakeholders and the building codes division on energy code issues. He also works with state agencies and schools to assist with energy efficiency for new facility design and retrofits and to track and reduce energy consumption. Blake has a BS in mechanical engineering and an MBA from the University of Notre Dame.
Angela Pilant, senior lighting specialist/program manager, Evergreen Consulting Group, LLC
Prior experience in account management and commercial and industrial sales have helped Angela excel as a senior lighting specialist for Evergreen Consulting Group. She currently works on several energy-efficiency programs in the Pacific Northwest by providing efficiency measurement research and site consultations. Angela has worked in the lighting and energy industry since 1995. Before working at Evergreen, she was a lighting specialist for Portland General Electric, where she worked on their lighting rebate programs. She has also coordinated efforts with large commercial and industrial customers to deliver kWh savings through efficient lighting design and controls. Angela's NCQLP Lighting Certified Professional designation and her experience with LEED process/documentation support, energy code compliance, emergency egress lighting and roadway lighting make her a valuable resource for clients and trade allies.
---
---