$200-$800 cash incentive
Ductless Heat Pumps (DHPs) can be a way to maintain year-round comfort. On hot days, they cool residences by removing heat from the indoor air and sending it outside. On cold days, they capture warmth from the outside air and send it indoors.
Packaged Terminal Heat Pumps (PTHPs) are self-contained units that offer heating and cooling and only require an electrical connection to operate. These units are commonly less expensive to install than a standard heat pump and take up less room.
To get started on your energy-efficient upgrade follow the steps below or contact a program representative.
Establish your eligibility.

Read More >

Property's heating must be provided by Portland General Electric or Pacific Power.
Cash incentives are available to all Oregon multifamily attached residential properties with two or more units including: duplexes, triplexes and fourplexes; side-by-side units; and stacked structures with five or more units. For specific incentives based on your building type see the "Details" tab for further eligibility requirements.
Energy-saving improvements must meet program requirements.

Find a trade ally contractor or work with your own contractor.

Install equipment that meets the requirements listed on the Details tab.

Complete and submit an incentive application with supporting documentation.

Proof of payment (invoice or receipt marked paid) and/or contractor's invoice
A W-9 or Substitute W-9 form is required for investment properties.
Energy Trust must receive applications within 90 days from the date of purchase and installation.

Get your incentive.

You should receive a cash incentive check within 6-8 weeks after all information is received.

Note: A post-installation verification may be required.

Customers may receive cash incentives up to $250,000 per site, per year.
| Equipment | Incentive | Requirements |
| --- | --- | --- |
| Ductless Heat Pump (DHP) | $800 per outdoor unit | Must  have an HSPF of 9.0 or greater per AHRI – visit ahridirectory.org. At least one indoor unit must replace electric resistance heat* in the primary living space. Replacing natural gas heating does not qualify. Ducted indoor heads are allowed. |
| Packaged Terminal Heat Pump (PTHP) | $200 per unit | Replace electric resistance heat (electric furnace, baseboard, in-wall unit or internal heater of PTAC). Unit must provide heat pump heating. Must be on the AHRI Certified PTHP list at ahridirectory.org. |
*Examples of electric resistance heat include baseboards, ceiling heat, wall heat and electric forced-air furnaces.
Incentives are subject to funding availability and may change. Incentives are not intended to influence consumer decisions on fuel sources.
Distributor discounts
Price discounts are available for owners and managers of investment properties purchasing PTHPs. Call Thermal Supply at 503.238.8833 for more information.
Participants receiving discounts on PTHPs are not eligible to receive any additional Energy Trust incentives on same equipment.
Need Help? Contact Us.
We're here to explain the process and benefits. Give us a call at 1.877.510.2130 or send us an email at multifamily@energytrust.org.
Success Stories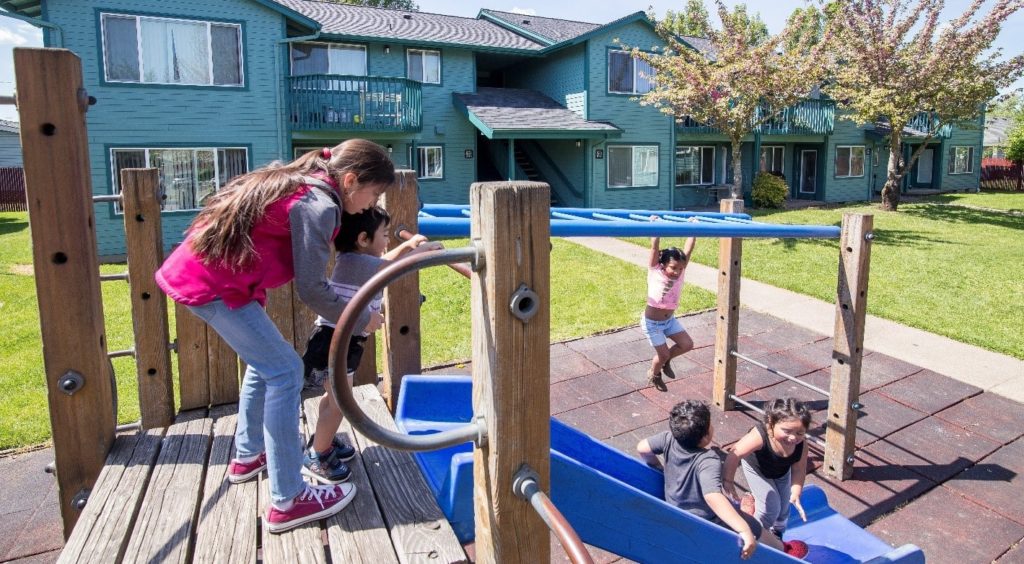 Polk CDC, Dallas and Independence